Standard Equipment and Configurations
BRM's 2 Deck Slipform System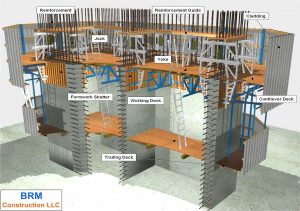 Typically used on small or mid sized structures, the system consists of a "Working Deck" and "Trailing Deck" arrangement.
Faster to install and remove the 2 deck system also enables easier concrete placement during pouring operations.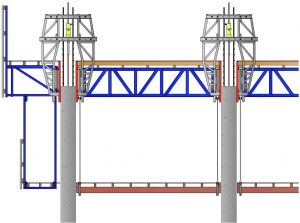 BRM's 3 Deck Slipform System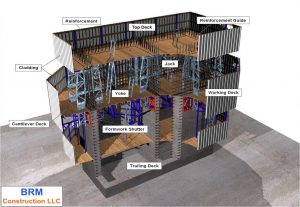 The 3 deck system is generally used on larger structures, continuous pour projects and projects with heavy vertical reinforcement.  Comprising of a "Top Deck", "Working Deck" and "Trailing Deck" the system enables vertical reinforcement and concrete pouring activities to take place from the top deck, thus splitting up the operational task.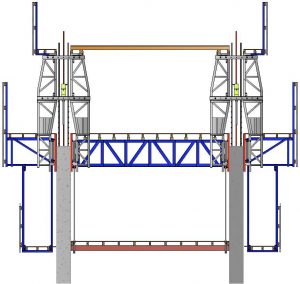 Hydraulic Lifting Options
BRM can provide both 3t and 6t hydraulic jacking mechanisms.  The hydraulic jack climbs on a consumable jack rod which can be continually extended throughout the travel of the slipform system.  The jacks consist of a single acting mechanism with internal mechanical grips resulting in a fail safe approach to lifting the system.